Open menu
We are temporarily closed due to COVID-19. 
We expect to re-open in July, but that date is presently unknown and subject to public health orders.

Please check back for more information.
If you have any other questions, please contact us at admin@californiagrandcasino.com
California Grand Casino

Blog / Fritz Taking a Well Deserved Rest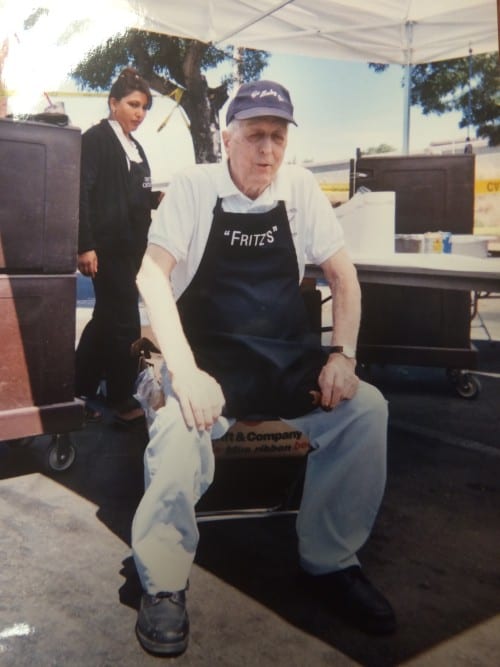 Fritz taking a well deserved rest!
We are very sad to announce that Fritz England has passed away.  He played poker here for decades.  He was always a gentleman both on and off the tables and he will be missed by all of us who knew him.
Though he was 96 years old when he passed, Fritz remained bright, clever, kind, and a real pleasure to be around.
Many of you will remember Fritz as the owner of Fritz's Quality Meats out on Clayton Road in Concord.  Maybe he even catered your wedding!  Long before Kinders came along, Fritz's was the go to place when you wanted to throw a great barbecue.  He was known for his tri-tip rub and steak marinades and you could always be sure your guests would be thrilled anytime you got meat from Fritz.  He had great tips on grilling too!
Some of you will remember Fritz as the man who served so many of us a meal at our annual barbecues.  Fritz would show up in the morning, unload 6 or 7 Weber grills, load them up with charcoal and start slow cooking tri-tips and chicken.  The smell was amazing and you could see the smoke from a mile away.
Still more of you will remember him as a player.  A few people remember playing 20 limit lowball with him back when we were known as the Pacheco Inn.  Some people even made it to the track with him.  Most of us knew him as a very solid 3-6 hold'em player.
We will miss you Fritz!  Rest in peace.